Welcome to the Official Website for the Good Will Fire Company
The Good Will Fire Company No. 2 is a 100% volunteer fire service that protects the lives and property of the communities of the Borough of West Chester, West Goshen Township, Westtown Township, Birmingham Township, East Bradford Township, and the entire township of Thornbury in Chester County.
Organized over 175 years ago in 1833 we are one of three volunteer fire companies that make up the West Chester Fire Department.
| | |
| --- | --- |
| | The Good Will Fire Company earned the 100% certification level from the PA State Fire Commissioner's Office. This level is awarded when 100% of the fire company's active members hold at least one of the state's certification levels |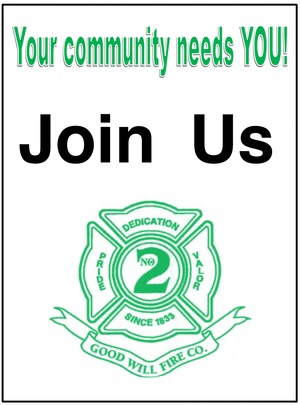 Help Us Help You. Please Donate.
Air Bank Assist to 24 Local

Firefighter Kyle McCorkle, November 19

At 17:03, the Good Will was dispatched to the 200 block of North Union Street in Kennett Square Borough for the air bank assist on a working dwelling fire. Station 24 and mutual aid companies had already been operating at the scene for over an hour. Air 52 made the response with a crew of four, led by Lieutenant Davis. Once onscene, crews performed overhaul and salvage and filled over 30 cylinders. ... (Full Story & Photos)

Back-to-back First Due Fires

Second Class Firefighter Kyle McCorkle, September 26

Just before 1300 hours, stations 52 and 53 as well as 51 for an engine were dispatched to the 200 block of South Matlack Street for the apartment building. Engine 52-1 and Ladder 53 responded and quickly arrived onscene along with Assistant 53. Assistant 53 reported smoke showing from a three story apartment building. Engine 52-1's crew, under command of Lieutenant Davis stretched a 1-3/4" attack ... (Full Story)






Goshen apartment building fire. Photo courtesy of John Albany.

Goshen Working Apartment Fire

Second Class Fire Fighter Kris Greer, July 31

At approximately 6:30 PM, July 31st Air 52 was dispatched to assist Goshen Fire Company with a working apartment fire. Air 52 responded quickly with 4 firefighters. Upon arrival Air 52's crew was assigned to search the Bravo side exposure (one of the apartments which shares a wall with the initial fire apartment). The crew entered the apartment to a heavy smoke condition on the first floor and ... (Full Story & Photos)


The Passing of Firefighter Ryan Miller

Apprentice Firefighter David Smiley, July 23

It is with deep regret, we announce the passing of Firefighter Ryan Miller, 25. Ryan passed away Saturday evening after being involved in a motorcycle accident in East Bradford Twp. Ryan is the brother of Firefighter Robbie Miller who passed away in May 2013 after being involved in a motorcycle accident. Ryan was an active member of the Good Will, and also a firefighter at the West Bradford and East ... (Full Story)





Apprentice Firefighter Tanner Crum Graduates Fire 1 Training

Captain Kevin Barry and Third Class Fire Fighter Tracey Axelrod, July 22

Apprentice Firefighter Tanner Crum recently attended Montgomery County's six week accelerated Fire 1 training program. He is now State and Proboard (National) certified in Fire 1 and Hazmat Operations. With this certification Tanner will now begin testing for Firefighter Third Class.

Tanner joined the rest of his graduating class at a ceremony held on July 10 in Montgomery County. Also attending ... (Full Story & Photos)


Your feedback is important to us! Feel free to sign the guestbook.