Welcome to the Official Website for the Good Will Fire Company
The Good Will Fire Company No. 2 is a 100% volunteer fire service that protects the lives and property of the communities of the Borough of West Chester, West Goshen Township, Westtown Township, Birmingham Township, East Bradford Township, and the entire township of Thornbury in Chester County.
Organized over 175 years ago in 1833 we are one of three volunteer fire companies that make up the West Chester Fire Department.
| | |
| --- | --- |
| | The Good Will Fire Company earned the 100% certification level from the PA State Fire Commissioner's Office. This level is awarded when 100% of the fire company's active members hold at least one of the state's certification levels |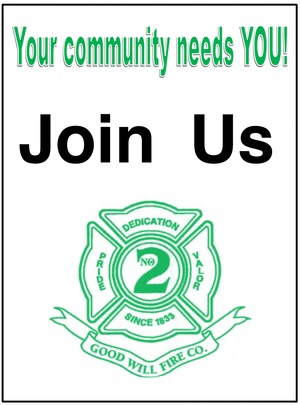 Help Us Help You. Please Donate.
Goshen Working Apartment Fire

Second Class Fire Fighter Kris Greer, July 31

At approximately 6:30 PM, July 31st Air 52 was dispatched to assist Goshen Fire Company with a working apartment fire. Air 52 responded quickly with 4 firefighters. Upon arrival Air 52's crew was assigned to search the Bravo side exposure (one of the apartments which shares a wall with the initial fire apartment). The crew entered the apartment to a heavy smoke condition on the first floor and ... (Full Story & Photos)



Goshen apartment building fire. Photo courtesy of John Albany.


The Passing of Firefighter Ryan Miller

Apprentice Firefighter David Smiley, July 23

It is with deep regret, we announce the passing of Firefighter Ryan Miller, 25. Ryan passed away Saturday evening after being involved in a motorcycle accident in East Bradford Twp. Ryan is the brother of Firefighter Robbie Miller who passed away in May 2013 after being involved in a motorcycle accident. Ryan was an active member of the Good Will, and also a firefighter at the West Bradford and East ... (Full Story)





Apprentice Firefighter Tanner Crum Graduates Fire 1 Training

Captain Kevin Barry and Third Class Fire Fighter Tracey Axelrod, July 22

Apprentice Firefighter Tanner Crum recently attended Montgomery County's six week accelerated Fire 1 training program. He is now State and Proboard (National) certified in Fire 1 and Hazmat Operations. With this certification Tanner will now begin testing for Firefighter Third Class.

Tanner joined the rest of his graduating class at a ceremony held on July 10 in Montgomery County. Also attending ... (Full Story & Photos)


Director of Emergency Services Ed Atikins Passes Away

Lieutenant Alex Creager, June 10

The Good Will Fire Company sadly announces the passing Monday night of Ed Atkins, the longtime director of Chester County's Department of Emergency Services.

"We are deeply saddened by the news of the passing of Ed Atkins," Chester County Commissioners' Chairman Ryan Costello said late Monday. "Ed was a pioneer in guiding Chester County into a new era of 911 and emergency services. In the 17 years ... (Full Story)





WCFD Responds to 2 Alarm House Fire in Longwood Local

Apprentice Fire Fighter Francis Smiley Jr., May 20

On Tuesday, May 20, around 1400 hours Stations 25 (Longwood), 36 (Po-Mar-Lin), Tanker 52 and RIT 52 were alerted to the 1400 Block of Washington Lane for a garage attached to a house on fire. While enroute the assignment was upgraded to a working fire due to a large plume of smoke visible from miles away. Engine 52-1 (A. Rychlak) made the response with a crew of 5 and while enroute Station 25 units ... (Full Story & Photos)



Fire conditions shortly after arrival. Photo courtesy of Michael Price (Daily Local News)


Your feedback is important to us! Feel free to sign the guestbook.