Welcome to the Official Website for the Good Will Fire Company
January 23, 2015 - The Good Will Fire Company of the West Chester Fire Department in Chester County, PA is in no way affiliated with the Goodwill Fire Department of Delaware County, or John Corcoran who has recently been in the news.
The Good Will Fire Company No. 2 is a 100% volunteer fire service that protects the lives and property of the communities of the Borough of West Chester, West Goshen Township, Westtown Township, Birmingham Township, East Bradford Township, and the entire township of Thornbury in Chester County.
Organized over 175 years ago in 1833 we are one of three volunteer fire companies that make up the West Chester Fire Department.
| | |
| --- | --- |
| | The Good Will Fire Company earned the 100% certification level from the PA State Fire Commissioner's Office. This level is awarded when 100% of the fire company's active members hold at least one of the state's certification levels |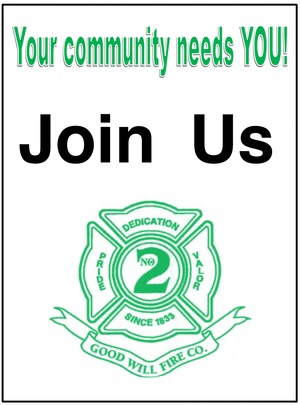 Help Us Help You. Please Donate.
New Apparatus Delivery in Spring, Summer 2016

Third Class Fire Fighter Tracey Axelrod, November 17

Updates to the Good Will's fleet have been in the works for many months and delivery is right around the corner. We'll be replacing our existing Tanker and an Engine with custom apparatus by Four Guys, Inc., to be delivered in 2016.

The first deliverable will be a new 3,000 gallon tanker with a Hale Qflow Plus 1,250 GPM pump. The tanker, built on a Peterbuilt 348 chassis will have a side mount panel, ... (Full Story)






Smoke showing from 3rd Floor

Rapid Intervention Training

Lieutenant Paul Widmayer, October 28

Good Will Crews teamed up with Longwood Fire Co. Firefighters for a live burn session and Rapid Intervention Team training. Crews from Longwood (Station 25) attacked a 3rd floor fire while crews from the Good Will responded to simulated Firefighter down scenarios. This was the conclusion of 5 weeks of training at the Good Will. The live fire scenario brought an element of realism to the drill. Many ... (Full Story & Photos)

Pope Francis Task Force

Lieutenant Paul Widmayer, September 26

Engine 52-2 (Captain Barry), with a crew of 4 stood by at the Philadelphia International Airport with Fame Fire Company's Engine 53 and Downingtown Fire Company's Engine 46-2, as a part of the Chester County Fire Task Force. The Task force was activated due to the arrival of Pope Francis, to assist the Philadelphia Fire Department.
... (Full Story & Photos)

Working Fire in the 51 Local

Firefighter Kyle McCorkle, August 07

At 2302 hours, Stations 51 and 53 were dispatched to the area of South Darlington Street and Holly Alley for the dwelling fire. Prior to arrival, Chief 53 was advised of multiple reports from neighbors and the West Chester Police Department of a working fire. Chief 53 called for the working fire dispatch, adding Station 52, as well as 56 for the RIT and Medic 91. The incident location was then updated ... (Full Story & Photos)


Three Alarm Fire in West Chester Boro

Good Will Fire Company, June 15

At 2123 hours, while Good Will crews were wrapping up a ladder drill, the WCFD was dispatched to 10 North Church Street for the reported building fire. Engine 52-2 (Lt. Davis) and Engine 52-1 (Lt. Widmayer) responded with 10 firefighters and arrived on location within four minutes of dispatch. Engine 52-2 was first arriving and found a four story mixed occupancy building with fire through the roof. ... (Full Story & Photos)



Photo courtesy Twitter


Your feedback is important to us! Feel free to sign the guestbook.