Welcome to the Official Website for the Good Will Fire Company
January 23, 2015 - The Good Will Fire Company of the West Chester Fire Department in Chester County, PA is in no way affiliated with the Goodwill Fire Department of Delaware County, or John Corcoran who has recently been in the news.
The Good Will Fire Company No. 2 is a 100% volunteer fire service that protects the lives and property of the communities of the Borough of West Chester, West Goshen Township, Westtown Township, Birmingham Township, East Bradford Township, and the entire township of Thornbury in Chester County.
Organized over 175 years ago in 1833 we are one of three volunteer fire companies that make up the West Chester Fire Department.
| | |
| --- | --- |
| | The Good Will Fire Company earned the 100% certification level from the PA State Fire Commissioner's Office. This level is awarded when 100% of the fire company's active members hold at least one of the state's certification levels |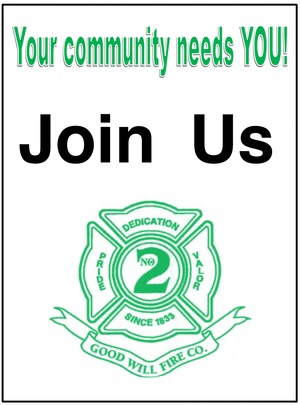 Help Us Help You. Please Donate.

Photo Credit: NBC10

Engine 52-1 Responds to Fatal Plane Crash

Second Class Fire Fighter Kristopher Greer, April 03

At approximately 1:30 in the afternoon of March 29th, a call came in to 911 indicating that a small plane had crashed in West Goshen Township, approximately 2 miles from the Brandywine Airport. Multiple callers reported seeing the Piper Cherokee go down near route 202, and the exact location was unknown. An engine from Good Will along with Goshen Fire Company and an engine from West Whiteland were ... (Full Story & Photos)


Good Will Called to Working House Fire in Westtown Township

Second Class Fire Fighter Kristopher Greer, April 01

At 5:34PM on Saturday March 28th, one engine from Good Will was dispatched to assist on the initial report of a house fire in Westtown Township. A few minutes later police arrived to the scene and advised that the house was engulfed in flames, and it was unknown whether the house was occupied. The working fire dispatch was called for at 5:40, bringing the balance of Station 52. Engine 52-1 arrived ... (Full Story & Photos)



Credit: Pete Bannan, Daily Local News



Bird and Froggy manning an attack line

Assist to Goshen Fire Company

Lieutenant Paul Widmayer, March 28

A home at 935 Westtown Road in Westtown was destroyed by fire Saturday evening. Goshen Fire Company and Good Will Fire Co. were alerted to the blaze about 5:30 p.m. and arrived to find the rear portion fully involved with fire extending throughout other sections of the home. Firefighters quickly requested assistance, bringing the balance of Good Will Fire Co. and Fame Fire Co. also a special request ... (Full Story & Photos)


Busy Start to the Year for WCFD

Lieutenant Paul Widmayer, February 15

A brief summary of the events for January and February 2015. The West Chester Fire Department has had a busy start to the year and here is a brief summary.
On January 17, 2015 around 0120 hours the West Chester Police Department reported a building fire at the Pretzel Factory in the 100bl N Church St. West Chester Borough. Stations 51 and 53 were dispatched and responded. Station 52 was alerted to ... (Full Story)




Tanker Assists Kennett Square on House Fire

Lieutenant Paul Widmayer, January 08

At approximately 0606 hours Tanker 52 was alerted to assist Kennett Square on a working house fire. The crew operated on the scene for several hours clearing at 0950 hours. The company had two fire alarms in our own local while the Tanker was committed. ... (Full Story & Photos)


Your feedback is important to us! Feel free to sign the guestbook.